[ Home | Download | Purchase | Affiliates | Support ]
---
TopNotes
Your Personal Information manager
TopNotes helps to manage any kind of information like addresses, phone numbers, recipes, pictures, videos and so on. Stores information in rich-text notes, arranged in a tree structure easy to organize.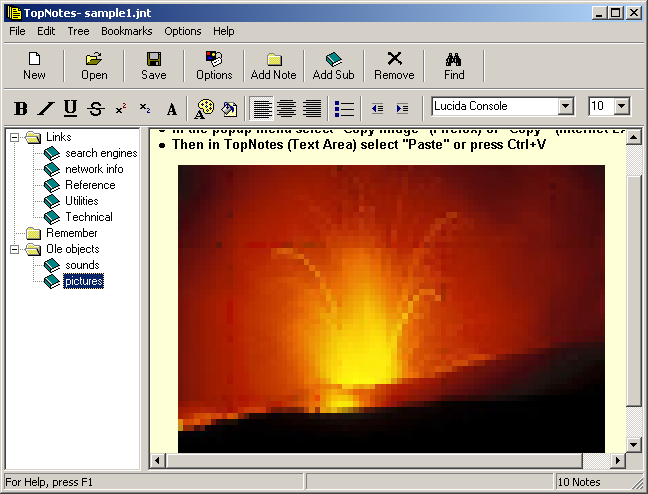 Key Features
Organize notes in a tree structure and stored in project files (notebooks).
Each notebook file can include an unlimited number of notes.
You can manage notes in the tree using drag & drop or move notes up, down, left or right using shortcut keys
Each note can include text, pictures, videos, sounds or OLE objects.
Compress notes project files using ZIP deflate algorithm.
TopNotes can protect your notebooks from prying eyes by using strong encription (Blowfish 448 bits key size)
Unique features as Bookmarks and History of the last notes modified.
Easy to use.
TopNotes is an stand-alone program. Does not require additional DLL, VBX, OCX, or external databases.
Can use project notes stored in a LAN.
Recognize web and email addresses and when doubleclicked launch default browser or email client.
Can be set in the tray always available at hotkey. A must have program always present when you need it.
Product information:
Current version: 1.1.1.0
Licensed version price: $24.95
Supported operating Systems: Windows 98/ME/NT4/2000/XP/2003/Vista

See more
---
Home
TopNotes | JOC Web Spider | JOC Email Checker
JOC Web Finder | JOC History Eraser | JOC Web Promote
JOC Press Release | JOC Print Commander | JOC Calc
JOC Menu | JOC Screen Designer | Links

Pad Files | Y2K Statement | Terms | Privacy Policy | Contact us


Copyright © 1998,2007 Jocsoft.com. All rights reserved
All product names are trademarks of your respective owners.