[ Home | Download | Purchase | Affiliates | Support ]
---
JOC Web Finder
Finds Web Pages FAST!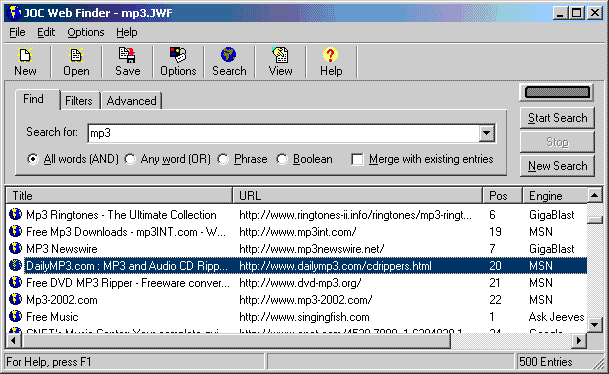 Key Features
JOC Web Finder (JWF) is a fast and efficient tool to search information on the web.
Enter any word, text or question, click a button and JWF will check all configured search engines, finding web pages related to the text entered.
Results are returned almost instantanely and can be clicked inmediately to view in a Web browser.
JWF saves you countless time searching all the engines simultanously and automaticly browsing page after page.
JWF can remove duplicates and filter unrelated results in many ways. Also support boolean operators.
Results can be stored in project files for later use, offline searching or sharing with others. Also can export results to HTML or Text format.
Results can be sorted, selected and filtered in diferents ways.
JWF also features an history of your project files, making sure that the information found in the Internet is organized and available.
Fast, Compact and easy to use.
Product information:
Current version: 5.2.1.1
Licensed version price: $24.95
Supported operating Systems: Windows 95/98/ME/NT4/2000/XP/2003/Vista

Related Links
---
Home
TopNotes | JOC Web Spider | JOC Email Checker
JOC Web Finder | JOC History Eraser | JOC Web Promote
JOC Press Release | JOC Print Commander | JOC Calc
JOC Menu | JOC Screen Designer | Links

Pad Files | Y2K Statement | Terms | Privacy Policy | Contact us


Copyright © 1998,2007 Jocsoft.com. All rights reserved
All product names are trademarks of your respective owners.